Kirsten has always enjoyed working with children, and found early on that she excels in an environment in which she can support and interact with children. Kirsten's favorite part about working with children is that children are fun, unique, outgoing, and she feels as though she learns a lot from them. It is because of these reasons that Kirsten has always sought employment which allowed her to work with children since 2001. From 2001 to 2020, Kirsten worked as an Assistant Teacher at Orono Kare for Kids in Long Lake. She then took a momentary break due to the COVID-19 pandemic, and at the end of 2020, Kirsten began working as a DayCare Assistant at the LA Fitness in Blaine. She ended up switching locations and is currently employed at LA Fitness' Edina location. As a DayCare Assistant, Kirsten is stationed in the kid's area, where she supervises and plays with the kids to allow parents to spend time taking care of themselves and their health in the gym. Kirsten sees some children regularly, and there are children she looks forward to seeing. Kirsten is also wonderful with the parents, and develops relationships with the people who are dropping their kids off before going to break a sweat.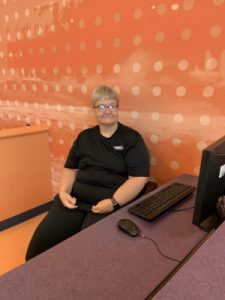 Kirsten has always been a very independent person – she wants to do as much on her own as she can. With the help of Placement Partners, she does just that. Kirsten started receiving Placement Partners' Vocational Services in 2014, which support her to be her authentic, independent self. Kirsten works with a job coach, and once a week, her job coach will come in and talk with Kirsten's supervisor about any problems that may have come up. However, her job coach reports that these meetings are very smooth because Kirsten's employers love her and have never had any problems. On top of that, the LA Fitness daycare admits to wishing they had gotten Kirsten on their roster sooner!
Kirsten is an exceptional employee – she has great communication skills, always has a positive attitude, and is dedicated. Kirsten is also very reliable – when she says she is going to do something, she does it. She is willing to work either morning or day shifts to accommodate her employer, and is flexible about where she works, like how she switched locations from Blaine to Edina. Kirsten takes the metro to work, and sometimes it takes her 2 hours to make it to her shift. She doesn't particularly love this aspect of her job, but her love for children and her dedicated, honest work ethic encourages her to make the journey despite it all.
When Kirsten isn't at LA Fitness being an exceptional employee, she likes to hang out with her friends and family. Kirsten enjoys relaxing, listening to music, and having fun with her friends at her apartment. She likes to listen to all types of music – except country. Sorry country fans! She also loves to spend time with her niece and nephew, which is possible because her brother also resides in Minnesota. Having them close by is great, because Kirsten adores her niece and nephew. Additionally, Kirsten enjoys spending time outside, as long as there are no boxelder bugs around – she hates these!
Placement Partners helps Kirsten live the independent life that she desires, and we are so happy to watch her succeed and thrive at her position as a DayCare Assistant. It seems to be an amazing fit for Kirsten, and we are so proud of what she has accomplished. Amazing job, Kirsten! We look forward to seeing what you do!