Amanda started with Placement Partners vocational programs in 2010 and has seen her employment opportunities grow in the decade since. Initially, she tried out a few different jobs and they were not the best matches for her. Her previous jobs were in retail and newspaper delivery. She did not enjoy some aspects of them like cleaning out the bathrooms or in the case of newspaper delivery, the early morning hours. She did not stay at these jobs for long, staying at a job for six months at the most.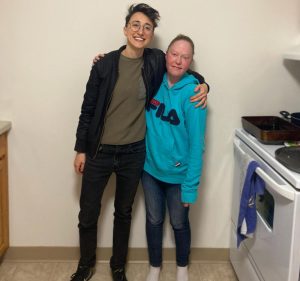 However, with help from Placement Partners, now Amanda is working as a Dishwasher at Whole Foods in Edina. She has held this job for nearly six years now. She is surprised that she has been with Whole Foods for so long because she encountered difficulties while starting the position. Amanda described herself as "shy", and said, "I didn't talk much when I started." Through some coaching from Placement Partners staff, she now feels comfortable at work. She enjoys being able to talk to her coworkers on the job and has one coworker she particularly relies on while she is having a bad day.
The COVID-19 pandemic brought about concerns regarding Amanda's safety at work, so she took a leave of absence until recently when she was finally able to return to work. While staying at home might seem like the dream to some people, Amanda genuinely missed her job and her coworkers shortly after taking leave from work. Amanda has returned to work since and is happy to be back. Since returning Amanda has adapted to new policies and procedures and has even helped out with handing out masks to customers, sanitizing carts, and even taking her coworkers' temperatures to ensure everyone's safety.
In addition to the friendly atmosphere she experiences at work, she also enjoys the freedom that this position affords her. She is able to listen to her own music while working. She likes a variety of genres such as pop, hip-hop, country and early 90s music. She stated that, "The Spice Girls" are a particular favorite of hers.
Further perks of Amanda's job include good benefits and a higher pay rate than she has made previously. However, she wasn't always able to appreciate the upsides of her job. Amanda had some trouble while starting due to infrequent attendance. She would frequently call in or leave in the middle of a shift. However, with some check-ins from Placement Partners staff she was reminded of the big picture of why she was works. Her new job has allowed her to move from her family's home to her own place. She enjoys being able live in her own apartment which she shares with her cat. Lately, she has had no problems in arriving to work and completing her shifts. Good job Amanda! We are proud of you!